What is Chondro'Sea© ?
Chondro'Sea© contains more than 90% chondroitin sulfate made exclusively from fish cartilage.
Chondroitin sulfate is a naturally occurring molecule found in cartilage joints. It plays a crucial role in the maintenance of cartilage tissue by ensuring its elasticity and hydration in order to absorb joint shocks.
Cartilage does not regenerate much and hardly heals, contrary to bones, as it has no vascularity. This cartilaginous capital is even more sensitive, with age, and it becomes a real-life constraint when the calcification becomes too important. It makes the movements painful. In France, every second person suffers from joint pain including 1 in 3 young people [Source : INSERM 2016]. This phenomenon is currently a real topic of medical research in the context of population aging.
Which galenic forms are particularly suitable for Chondro'Sea© ?
Chondro'Sea© is a natural alternative, adapted to several galenic forms for food supplements:
Tablet (Good compressibility)
Liquid (quick solubility to respond to the needs for soluble products)
Sachets
Capsule
Why is Chondro'Sea© so unique ?
Chondro'Sea© is made from cartilaginous fish from the Pacific Ocean in the context of fishing that preserves our marine environment. Indeed, Chondro'Sea© only values the by-products of fishing (skeletons and soft tissue) which are often discarded wrongly and does not use any protected species of fish.
The unique characteristics of Chondro'Sea© are based on its manufacturing process, which has been subject to a particular technological development, in order to achieve a better solubility of the product.
Recently, Pharmanager began research on Chondro'Sea© with a first study demonstrating its excellent bioavailability and a second demonstrating its efficacy.
The bioavailability study1 revealed surprising results. The speed at which the chondroitin molecule reaches its maximum absorption in the organism is a significant parameter for knowing its time of action.  In other words, the more bioavailable the molecule is, the faster it is available for the organism to use it. Also, it will be less eliminated through the digestive tract.
Chondro'Sea© has thus been compared to another competing chondroitin from a marine source and a bovine chondroitin.
Results of the bioavailability study
Oral absorption of Chondro'Sea© was rapid as its maximum concentration in blood plasma was reached in only 30 min, compared to commercial marine chondroitin in 2.5-3h and bovine chondroitin in 5h.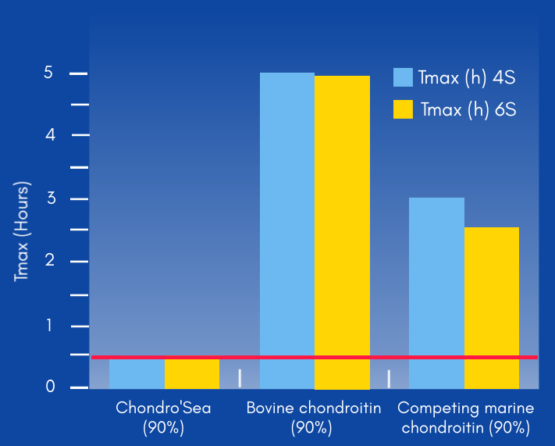 The manufacturing process of Chondro'Sea© gives the opportunity to obtain smaller molecules which thus pass more easily through the intestinal barrier to reach its target, the cartilage.
*Tmax= corresponds to the time it takes for the product to reach its maximum concentration in the blood.
The physiological effect observed with Chondro'Sea© suggests an interesting beneficial effect on the joints.
The effectiveness study2 made it possible to evaluate and compare the effectiveness of the Chondro'Sea© formulation.
4 groups studied:
MIA*+Control
MIA+Chondro'sea©
MIA+Bovine chondroitin
MIA+Tramadol
* Intra-articular injection of monoiodoacetate (MIA) mimics accelerated cartilage wear.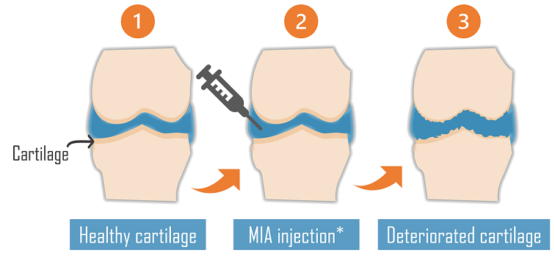 Results of the effectiveness study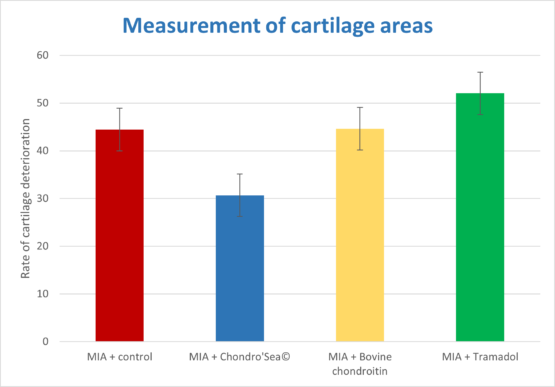 Deterioration is even larger in the "control", "bovine chondroitin" and "Tramadol" groups.
The administration of Chondro'Sea© seems to slow down the deterioration of cartilage induced by MIA.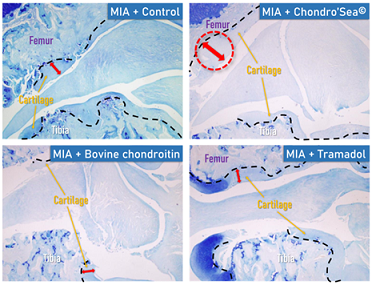 Histological sections illustrate a better preservation of the cartilage for the «Chondro'Sea©» group. 
Chondro'Sea© is a natural alternative that acts preventively on cartilage thanks to the chondroitins it contains.
To conclude on Chondro'Sea© :
More than 90% of chondroitin sulfate comes exclusively from cartilaginous fish
No use of protected marine species
Valorisation of fishery by-products
Plant dedicated 100% to the production of Chondro'Sea©
Immediate effect thanks to its rapid absorption (30 min)
Better preservation of cartilage compared to the other groups studied
Strict control according to the criteria of the monograph of the European Pharmacopoeia
Regulatory compliance to the French market with the complete file under "Substance decree"
1 Sarah Paris-Robidas (Octobre 2019), Évaluation de la biodistribution orale de trois formulations de chondroïtine. Centre de recherche et de transfert en biotechnologies (TransBioTech Canada)
2 Sarah Paris-Robidas (Avril 2020), Évaluation de l'efficacité de la Chondro'sea dans un modèle animal de douleur articulaire. Centre de recherche et de transfert en biotechnologies (TransBioTech Canada)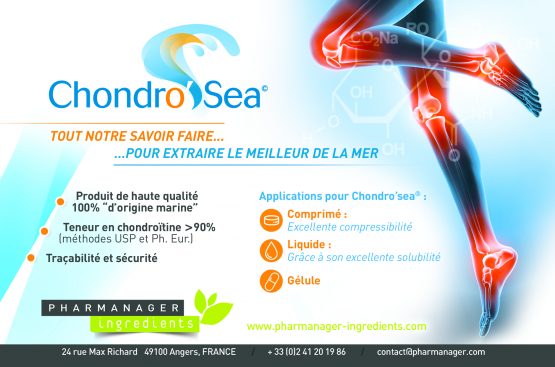 To learn more, contact us !