RhodioZen© is derived from the iconic " Golden root ", Rhodiola rosea L. This plant is found in the mountainous regions of central and northern Asia.
Rhodiola was named for the Greek "rhodos" meaning "pink" in Greek because of the smell of rose emerging from the root.
Known for at least 3000 years, rhodiola has amazing properties called adaptogens properties. These allow it to increase our resistance to various stressors and optimize our work capacity. Rhodiola simply adapts to the needs of the body. 
In contrast with stimulants, adaptogens are reputed to increase a work-capacity that is not followed by a decrease.
Rhodiozen© is a product that meets strong demand at a time when the adverse effects of stress on health are clearly recognized. Stress affects 9 French out of 10 according OpinionWay.
« 200 mg minimum of Rhodiola rosea L. extract titrated in 3% rosavins & 1% salidroside contributes to optimal mental and cognitive activity »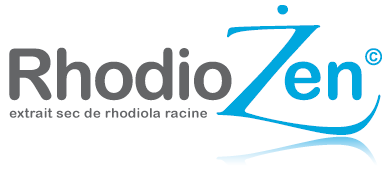 RhodioZen© properties
A unique source of Rhodiola rosea L.

3% rosavins & 1% salidroside

Complete « French Plant Decree » file (Appendix 3 included)

12 health claims in the pending list of the European Commission

Adapted to food supplements
To learn more, contact us !