Nattiase®, fermented soybean extract titrated in nattokinase : a unique and innovative product
Where did we get the idea for Nattiase®?
According to legend, in 1083, during the Gosannen War, the soldiers of General Minamoto no Yoshiie boiled soybeans to feed their horses. Taken by surprise by an attack, they wrapped the cooked soybeans in rice straw. Several days later, they noticed that its appearance had changed. Intrigued, the general tasted this dish which he loved and called "natto" or "beans for the shogun (Japanese general).1
Natto is a soy-based food fermented by the bacteria Bacillus subtilis. It has been consumed by the Japanese2 for over 1,000 years for its delicious taste. Much more than a simple food, natto is eaten for its various nutritional benefits.8 This may be one of the reasons why the Japanese have greater longevity and better cardiovascular health than other populations.9
.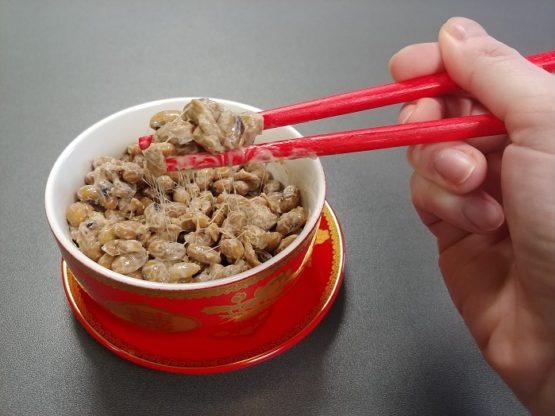 Our product Nattiase® contains an interesting enzyme called nattokinase. This enzyme comes from natto. It has a molecular weight of 27.7 kDa and is composed of 275 amino acids. It was discovered in the early 80s by Dr. Hiroyuki Sumi.   
In the USA, nattokinase has been available for sale since 1998 and gained popularity in early 2002 after the Americans became aware of its health benefits, particularly for cardiovascular health, and also due to media coverage of the benefits of the Asian diet (natto).
Nattiase® is a natural and innovative solution
The cardiovascular system distributes blood to all our organs. For proper distribution of blood throughout the body, various physiological phenomena are triggered by the body. This is called hemostasis. This mechanism helps maintain good balance in blood fluidity and circulation.
This phenomenon brings together complex physiological processes, in particular vascular motility regulation (vasoconstriction and vasodilation), platelet aggregation and synthesis of enzymes and plasma proteins such as, for example, fibrin, the main role of which is to maintain good blood coagulation. After having played its part, fibrin is naturally broken down by another enzyme called plasmin. This enzyme is capable of destroying certain plasma proteins. Striking the right balance between coagulation and fluidity maintains blood circulation in normal conditions.
Following the discovery of nattokinase, many studies evaluated the health effects of supplementation with this enzyme. The results were particularly interesting with regard to cardiovascular benefits, in particular:
Normal blood circulation and fluidity.4
Improved lipid profile by increasing the level of good cholesterol in the blood (HDL).5
Normal blood pressure.6-7 
Nattiase® is known to have a beneficial effect on cardiovascular function by maintaining good blood fluidity. Its mechanism of action is explained by boosting the activity of plasmin responsible for fibrin degradation, thus allowing normal blood circulation.
Moreover, the safety profile of nattokinase has been proven in several studies.10-11
We carefully control the production chain and quality of our Nattiase®
At an ISO 22000 and FSSC 22000 certified site, Nattiase is produced in ISO7 certified rooms.
This begins with careful selection of the soybean that will be the substrate for production of the enzyme. The industrial process comprises two main steps, pre-treatment and production.
Pre-treatment :
Inoculation : The selected soybeans are inoculated with the bacteria Bacillus subtilis.
Fermentation : Submerged fermentation under well-regulated incubation conditions to maximise the activity of Nattiase® per unit.
Production :
Purification : Ultrafiltration is applied to the process to remove impurities
Freeze-drying : A key step in transforming the liquid solution to a solid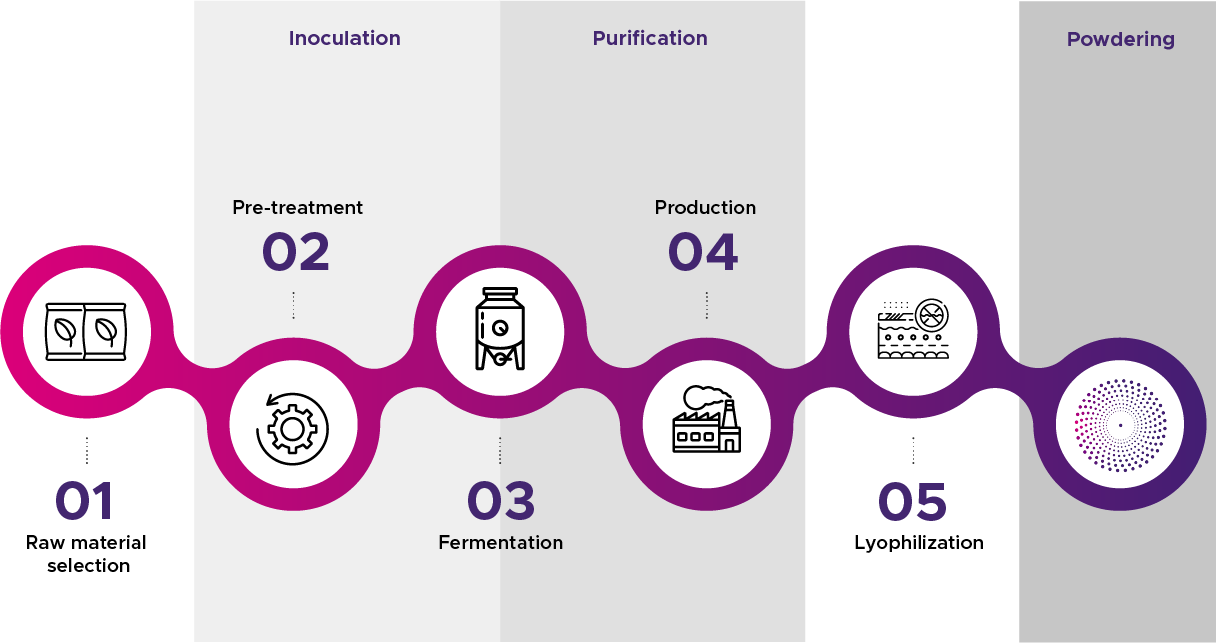 Nattiase quality is controlled throughout the production process. Batches produced are analysed according to the parameters defined in our specifications in accordance with the Novel Food Regulation 2015/2283.
No incidents were observed concerning the use of Nattiase in in vivo safety studies. Including during 28-day repeated dose oral toxicity, acute toxicity and mutagenicity tests.
Nattiase® was carefully developed in accordance with the Novel Food Regulation (2015/2283)
Maximum dose : 100 mg/d of nattokinase corresponding to the reference dose approved by EFSA (i.e. 2,000 FU/d) 
Dosage : 20,000-28,000 FU/d 
Uses : food supplements in capsule, tablet or powder form for cardiovascular health
Mandatory labelling: fermented soybean extract
Recommendations : Nattiase® is intended for adults, excluding pregnant or breastfeeding women. It is to be taken under medical supervision for people on medication.
Contact us for more scientific and regulatory details
Reference
https://www.kanpai.fr/voyage-japon/natto

Kurosawa Y, Nirengi S, Homma T, Esaki K, Ohta M, Clark JF, Hamaoka T. Sci Rep. 2015 Jun 25;5:11601. doi: 10.1038/srep11601. PMID: 26109079; PMCID: PMC4479826.

Sumi H, Hamada H, Tsushima H, Mihara H, Muraki H. Experientia. 1987 Oct 15;43(10):1110-1.

Kurosawa, Yuko et al. Scientific reports vol. 5 11601. 25 Jun. 2015

Ren NN, Chen HJ, Li Y, Mcgowan GW, Lin YG. Zhonghua Yi Xue Za Zhi. 2017 Jul 11;97(26):2038-2042. Chinese. doi: 10.3760/cma.j.issn.0376-2491.2017.26.005. PMID: 28763875.

Kim JY, Gum SN, Paik JK, Lim HH, Kim KC, Hypertens Res. 2008 Aug;31(8):1583-8. doi: 10.1291/hypres.31.1583. PMID : 18971533.

J Jensen GS, Lenninger M, Ero MP, Benson KF. Integr Blood Press Control. 2016 Oct 13;9:95-104. doi: 10.2147/IBPC.S99553.

Afzaal M, Saeed F, Islam F, Ateeq H, Asghar A, Shah YA, Ofoedu CE, Chacha JS.Biochem Res Int. 2022 Oct 21;2022:5863887. doi: 10.1155/2022/5863887. PMID: 36312453; PMCID: PMC9616652.

« Mortalité due aux maladies cardiovasculaires », dans Health at a Glance 2015 : OECD Indicators, Éditions OCDE, Paris.

LAMPE B.J., & ENGLISH J.C.(2016). Food and Chemical Toxicology. 88, 87-99

WU, H., et al. (2019). Regulatory Toxicology and Pharmacology.
To learn more, contact us !