The food supplement market is currently enjoying a boom. It recorded 1.9% growth in 2020, corresponding to a turnover of €2,138 million [Synadiet].
The pharmacy channel holds 50% of market share and remains stable in 2020. Three segments dominate the market: stress/mood (+9.3%), digestion/bowel problems (-0.8%) and vitality (+18.6%). Though, immunity supplements were particularly successful in 2020 with a growth leap of +37.6% Also, sales in the women's health product segment grew significantly by 10.7% (vs. 3.5% in 2019) [Synadiet].
However, growth dropped by -11.1% in the health and beauty store channel, which only corresponds to a small share of this market (5%). Concerning the supermarket/hypermarket channel, after recording negative growth in 2019 (-4.4%), it seems to be slowly recovering in 2020 (+3.4%)! [Synadiet]
The award for most spectacular growth, however, goes to the e-commerce channel! It recorded +30% growth in 2020 [Synadiet]. This is not surprising as many people shopped more on the Internet during lockdowns.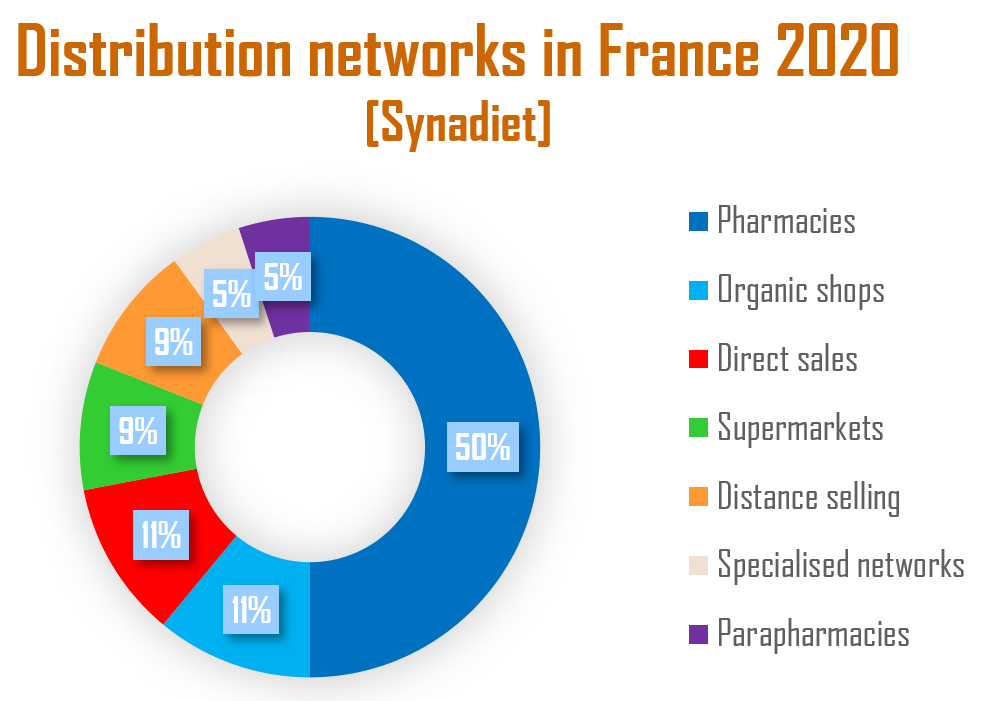 2020, an accelerator for the food supplement market
With the Covid pandemic, Internet use has developed. People spent a lot of time online, whether on the social networks or e-commerce sites. Telemedicine has also taken advantage of this momentum to broaden its reach. Information is what Internet users search above all else. They increasingly use health apps where they get advice from health coaches.
People have realized the importance of health and well-being. As competition is rife in this field, pharmacies need to stand out from the rest to keep their lead and strengthen the role of the pharmacist as the local health professional. Indeed, in recent years, new start-ups originating online called DNVBs (Digital Native Vertical Brands) have generated a real craze. They have become popular due to the strong, direct relationship they build with their customers.
Advent of DNVBs: the secret of their success
DNVBs use specific communication channels to primarily target young people (Instagram, Twitter, Facebook, etc.). They attract customers with their modern way of communicating, often adding little humorous touches while providing information. Their commitment to environmental ethics and the initiatives they implement in this area are also highlighted to reach consumers sensitive to these issues.
They develop their own brand identity using discreet designs in line with current trends. Some of them have interactive questionnaires to provide personalised responses for each visitor. They may opt for new galenic forms to move away from the traditional forms of food supplements. The idea being to move away from the galenic forms associated with medicinal products towards something more fun and appealing. Gummies are the perfect example since they are the trendiest form, used by many of these brands (Les Miraculeux, Biocyte, Kaya, Lashilé…).
Lastly, these digital start-ups highlight their product quality via well-known assertions (gluten free, cruelty free, suitable for vegans, etc.) and eco-friendly packaging. They have taken full consideration of the needs of consumers looking for products with fewer ingredients, no adverse effects and that are respectful of the planet. The goal is to be as transparent as possible while nurturing their direct relationship with customers to gain their trust.
Food supplement market: future trends
Forecasts for the coming years predict a growing trend for new formulations and products that appeal to the emotions. In fact, since the Covid pandemic, mental well-being has become a topic of huge interest. The companies that have started to venture into this area refer to the impact of stress on mental health in their communication. Simply put, ingredients that have an action on stress or concentration, or those that promote sleep or relaxation have a bright future ahead of them. It is highly likely that these products will become more and more specialised to meet the needs of specific target groups (elderly people, active workers, students, etc.).
Find out more about our premium ingredient Rhodiozen® perfectly adapted to this future trend for relaxation & mental well-being.